The 2014 Toyota Venza is not your average car. It comes with the look of a four-door station wagon, but it's actually classified as crossover vehicle. This basically means that it comes with extra interior space and can take on more weight than the average four-door car.

While looking for a new Toyota near Orlando, it's important to keep in mind what kind of driving experience you want to have. If you're looking for a new ride that can handle tough roads but still offers luxurious features, then you might want to take a closer look at the all-new 2014 Toyota Venza near Orlando!
 
2014 Toyota Venza near Orlando is luxurious and practical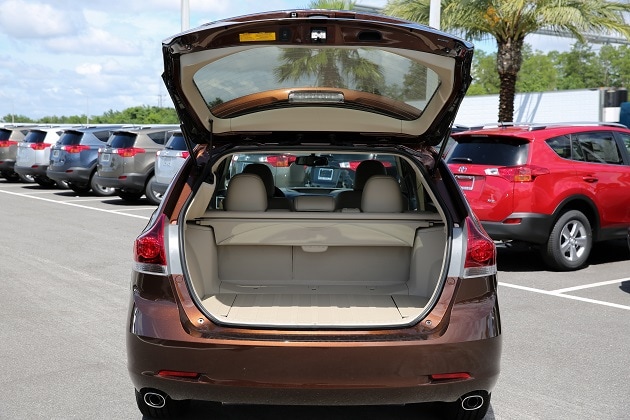 With three different trim-levels to choose from, it's easy to find the kind of versatility and style you want without having to give up high-tech options. Sometimes it can be difficult to find a car that offers the perfect balance of luxury and practicality. However, drivers shouldn't run into this problem with the new Toyota Venza near Orlando.
Comfort

The new Toyota Venza near Orlando was re-designed to meet your transportation preferences with ease. Whether you're behind the wheel or riding along as a passenger, you should have no problem relaxing while you travel in this new Toyota. 

   
Dual zone automatic climate control is a standard feature that's found in every trim-level. This means that it's exceptionally easy for passengers and the driver to stay cool and comfortable or nice and warm ? whatever their temperature preference is!

   
Depending on the trim-level of the 2014 Toyota Venza near Orlando you choose to take home, there's the option of either fabric or leather-trimmed seating. Regardless of which material suits your preferences, the adjustable front seats for the driver and passenger ensure that a comfortable seating arrangement can be made.

   
An incredible variety of high-tech listening options are literally at your fingertips in the 2014 Toyota Venza near Orlando, too. With an audio system that boasts a USB port and auxiliary audio jack, there's more than one way to plug in your electronic devices. If that doesn't excite you, then be sure to check out the Bluetooth wireless technology that comes as a standard feature in every trim-level! 

This is only the beginning of what the 2014 Toyota Venza near Orlando has to offer. Additional options and features are available to make the most of, such as navigation services, split and reclining rear seats, cruise control and more! 

Performance 
It can be easy to think that a crossover vehicle may not offer much when it comes to performance, but that's definitely not the case. 
   
Front-Wheel Drive and an automatic transmission come in each trim-level, so you can be sure to enjoy a smooth and relaxing drive. However, the option to get All-Wheel Drive is available on every trim-level as well so that you can easily customize your driving experience.

   
Many of the new Toyota Venza trim-levels also come with a choice of engine power. While each model is automatically equipped with a 4-cylinder engine, don't hesitate to upgrade to the V6 if you want access to a little more horsepower and torque! 
   
Crossover vehicles are excellent  if you want the space of an SUV without the bulk  of one. This new Toyota near Orlando comes with a large trunk space that can easily store multiple large items and heavy cargo. Don't worry about trying to lift up the trunk door and manage your luggage at the same time, either. The power rear liftgate has jam protection, so this difficulty is minimized! 
   
If you have some heavy items that just won't seem to fit in the trunk, the 2014 Toyota Venza near Orlando is ready to solve this dilemma. Simply utilize the tow hitch and use this new Toyota to tow up to 3,500 pounds!

Enjoy exceptional style in the 2014 Toyota Venza near Orlando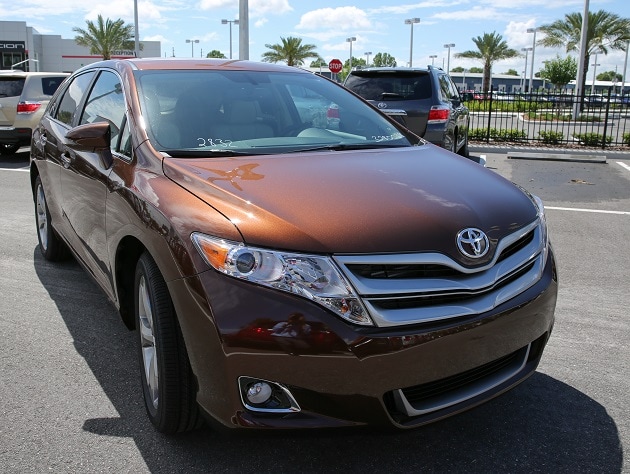 Even though this vehicle is a crossover, it still comes with some eye-catching exterior details. You can be ready to take on rough roads and multiple adventures without having to sacrifice style when you're in the 2014 Toyota Venza near Orlando. With different features such as 19- or 20-inch alloy wheels, a rear spoiler, chrome accents and more, much detailing and craftsmanship has gone into the new Toyota Venza. 
Think this new Toyota near Orlando is right for you? There's only one way to know for certain! Stop by and see us at 16851 State Road 50 to look at it in person, or give us a call at (888) 590-6090 to speak with one of our team members now!