Durability and access to a muscular vehicle is easy - all you have to do is get inside the 2014 Toyota Tundra near Orlando! What is it about this vehicle that makes it such a strong and dependable option? It's been specifically designed to transport heavy items with ease so that you can easily move lots of cargo at the same time. 
However, the new Toyota Tundra near Orlando hasn't received an updated look or undergone a re-design for quite some time. This new Toyota truck near Orlando more than makes up for any lost time! It features some of the latest technology, has a whole new look, and comes with multiple upgrades!


Explore the 2014 Toyota Tundra near Orlando!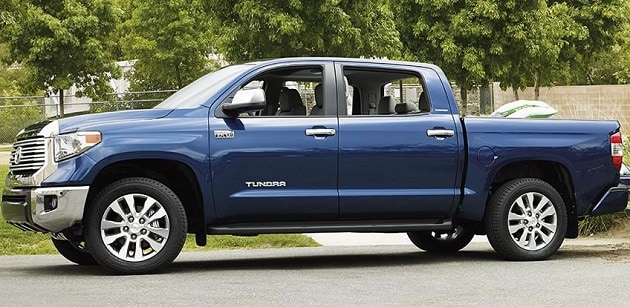 Many different features have changed in the 2014 Toyota Tundra near Orlando ? including the option of more trim-levels than ever before! Drivers have the choice of the: 
   
SR

   
SR5

   
Limited
   
Platinum
   

1794 Edition

More trim-levels to choose from are just one thing that's changed when it comes to the 2014 Toyota Tundra near Orlando. There are also multiple cab sizes to choose from, such as Regular, Double-Cab, and CrewMax! 

There's also many different engine sizes to consider, too. For drivers that are interested in making the most of their towing capacity, the choice of engine is extremely important because the more torque (or power) a vehicle has, the easier it is for it tow heavy weights! Options include the:

   
4.0L V6 - 270 horsepower and 278 lb-ft of torque

   
4.6 L V8 - 310 horsepower and 327 lb-ft of torque
   

5.7L V8 - 381 horsepower and 401 lb-ft of torque

Drivers even have the choice of a manual or automatic transmission for many of these trim-levels. There's even the option of selecting rear-wheel driver or four-wheel drive! With all of these options to consider, it can be extremely easy to customize your truck so you have the exact capabilities and driving experience you want!
Once you've determined which trim-level and different combinations of options are best-suited for your driving needs and preferences, it's time to start enjoying the Toyota Tundra near Orlando that you've selected!


Which new Toyota Tundra near Orlando is right for you? 

Some features are found throughout every trim-level, while more advanced options deliver even more choices for drivers to pick from and enjoy! Features and options that can be found in the SR, SR5, and Limited trim-levels of the new Toyota Tundra near Orlando include: 
   
Daytime running lights and fog lights to help you see what's ahead and be noticed by other drivers when you're out on the road.

   
A tailgate that's easy to lower and lift to make storing cargo in the back seamless and easy. 
   
The famous Toyota Entune System and Bluetooth technology. These features provides access mobile apps and also the ability to wirelessly stream music.
   
A 3.5-inch multi-information display helps display important information that drivers need to access quickly, such as the odometer, tripmeters, and more! An integrated backup camera also helps drivers get a better view of what's behind their vehicle before they start backing up.

   

Tying down larger items in the truck bed also isn't an issue since all these trim-levels come with a special deck rail system!

These are just a few of the convenient and high-tech features that can be found in these models. The more advanced options also have plenty to offer!

2014 Toyota Tundra Platinum

This trim-level of the Toyota Tundra near Orlando seems to deliver the perfect combination when it comes to style and performance. Trucks aren't necessarily praised or well-known for providing luxury, but this is an element that can easily be found in this truck!

   
A power moonroof is a small but significant detail that helps drivers customize their driving experience.
   
An urban-themed interior delivers a whole new look on the inside, while 20-inch alloy wheels and chrome accents provide eye-catching details on the exterior. 
   
The Toyota Entune Audio System in this 2014 Toyota Tundra near Orlando not only comes with Bluetooth, but it also features JBL Audio and a navigation system!

   

Staying safe is never a concern either. Not only is the Toyota Star Safety System already installed, but this truck also comes with a Blind Spot Monitor and a Rear Cross-Traffic Alert system. 

2014 Toyota Tundra 1794 Edition

This all-new special trim-level of the 2014 Toyota Tundra near Orlando is unique in more than one way. It's named for the Toyota truck plant in San Antonio where an actual ranch used to be! 

   
Brown leather seats and ultrasuede seat accents provide extremely comfortable seating and create a Western theme!

   
Everyone will be sure to know you have the special 1794 Edition trim-level because of this model's special badges that are located both inside and outside.

   

Like the Platinum trim-level, extra safety features like a Blind Spot Monitor and Rear Cross-Traffic Alert System are also installed!

No matter which new Toyota Tundra near Orlando you decide to take home, you'll be sure to enjoy the incredible features and wide variety of options that are available to choose from. Stop by and see us today at 16851 State Road 50 to get behind the wheel of this new Toyota truck near Orlando today, or give us a call at (888) 590-6090!