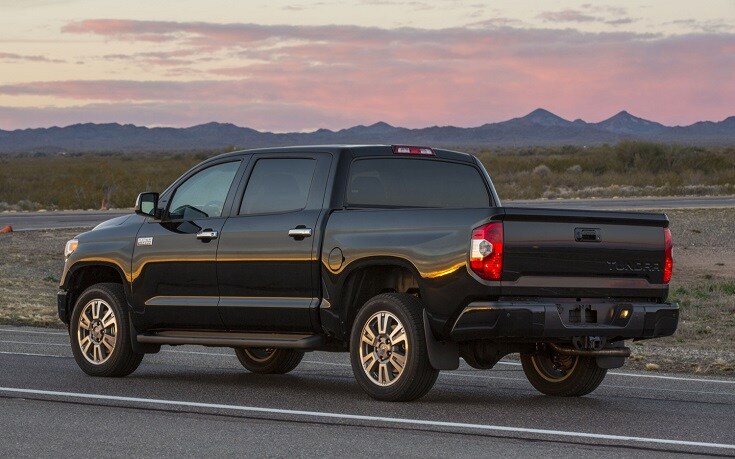 The 2014 Toyota Tundra near Orlando is known around the world for being a tough and durable truck. It's gathered quite a bit of positive reviews and awards over the years, like: 

   
Best Resale Value Award by KBB.com
   
   
Best Bet by Cars.com
   
   

Most American-made truck

This isn't all it has to offer, either! Did you know that over 90 percent of models  sold in the last ten years are still on the road today? Talk about dependability and reliability that's hard to beat!
Recently this new Toyota truck near Orlando received a couple new trim-levels that have created a lot of excitement: the 1794 Edition and Platinum. 
Truck lovers might also know that the Ford F150 has a Platinum trim-level available for drivers to check out. If you want a tough truck that offers durability AND city style, then you might be interested to see how the Platinum trim-level of the Ford F150 and Toyota Tundra near Orlando stack up against each other!
 
Which Platinum trim-level is a better choice: the 2014 Ford F150 or 2014 Toyota Tundra near Orlando?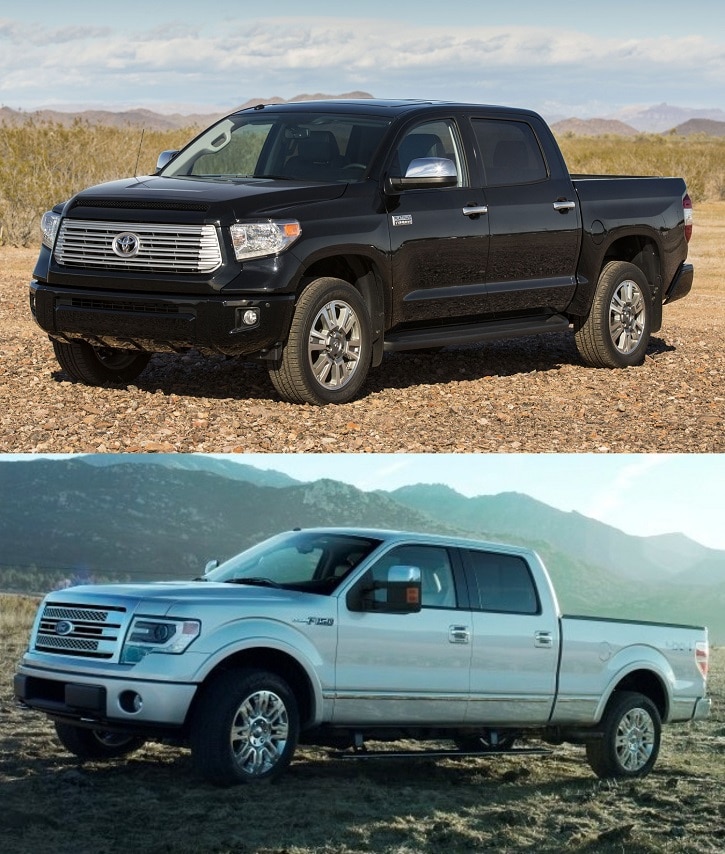 Regardless of which you choose - the Ford F150 or Toyota Tundra - you can count on these trucks offering a lot of fun features. After all, they're both advanced trim-levels, which means they come with more options and gadgets than the base or standard model! 
Budget
This new Toyota trim-level of the 2014 Toyota Tundra is especially unique because it boasts a more city-friendly and urban-theme. If you want to get the most bang for your buck, then chances are you'll like the numbers of this Toyota better than the Ford! 
With the starting MSRP of $47,325, the Ford F150 is a pretty expensive choice - especially when you compare it with the Toyota Tundra! The starting MSRP of this new Toyota truck is only $44,550 - that's almost $3,000 of savings drivers can enjoy right off the bat!
Towing 
The Ford F150 is able to tow a little bit more weight than the 2014 Toyota Tundra near Orlando, but that doesn't mean this truck can't hold its own. It can tow over 10,000 pounds with ease thanks to its powerful 5.7L V8 engine!
Interior
If you love having access to convenience, then you'll definitely love what this new Toyota truck near Orlando has to offer. It comes with a few extra features that the Ford can't compete with!
   
The driver's seat comes with a 12-way adjustable power setting (the Ford F150 only offers 8-way).
   
   
The front passenger seat has a fold-flat feature to provide extra room and convenience on -the-go. 
   
   

Plus, it's decked out in perforated black leather and comes with extra stylish details like heated and ventilated front seats, a power tilt/slide moonroof, and 20-inch 6-spoke alloy wheels! 

Technology

When it comes to enjoying hi-tech features, the 2014 Toyota Tundra near Orlando comes out on top in a few areas, too. The Ford F150 does boast some similar hi-tech options like SiriusXM and HD radio, but a few other unique features are found in the new Toyota truck!

   
With 12 JBL speakers versus the ten Sony found in the Ford F150, the 2014 Toyota Tundra near Orlando provides more of a surround-sound experience. 
   
   

The Toyota Entune System is a unique option that's only available in new Toyota. Through this system, drivers can access mobile apps and also get important updates on the weather and traffic - all while they're driving!
Drive home a new Toyota Tundra near Orlando today!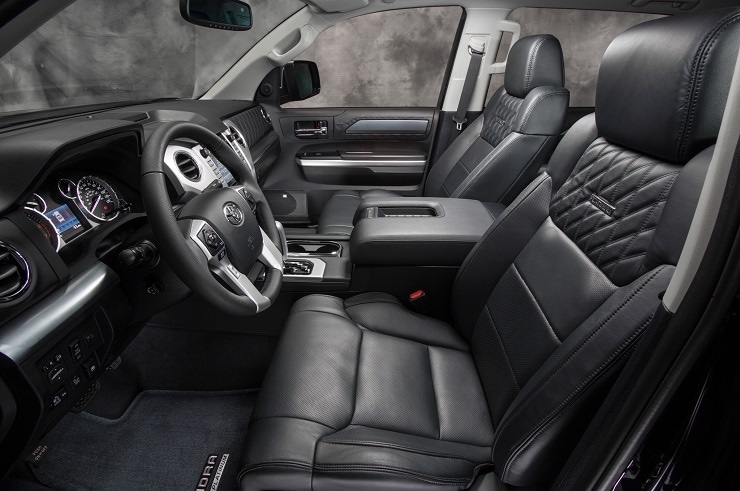 While the Ford F150 and Toyota Tundra near Orlando both offer similar features, this new Toyota truck comes with some special options that this Ford doesn't match - and all for a more budget-friendly price! 
If you want access to a truck that can easily transition from a rough work day to a night out, then the 2014 Toyota Tundra near Orlando is ready for this challenge and to do even more. You don't have to take our word for it, though! Come check it out for yourself, and don't forget to sneak a peek at the new 1794 edition while you're here, too!
Stop by and visit us at 16851 State Road 50, or give our Internet Sales Team a call at (888) 590-6090 to set up a test-driving appointment! We're open until 10:00 pm every day so there's always a good time to visit!