Minivans might not have a reputation for being the sleekest and most stylish vehicle on the road, but that's definitely not the case with the one we've got in mind… plus, it packs major technology and comfort inside! The 2014 Toyota Sienna near Orlando is one option that's captured drivers' attention for quite a while. It features the latest when it comes to safety, and also delivers some extremely convenient and comfortable options!
It's no secret that the 2014 Toyota Sienna near Orlando isn't the only minivan on the market. Options like the Honda Odyssey have become a favorite choice, too. How can you tell which one is right for you? We did some digging so you can have all the information you need to decide which one of these family-friendly rides is the best choice!
 
Is the 2014 Toyota Sienna near Orlando ready for your travel plans?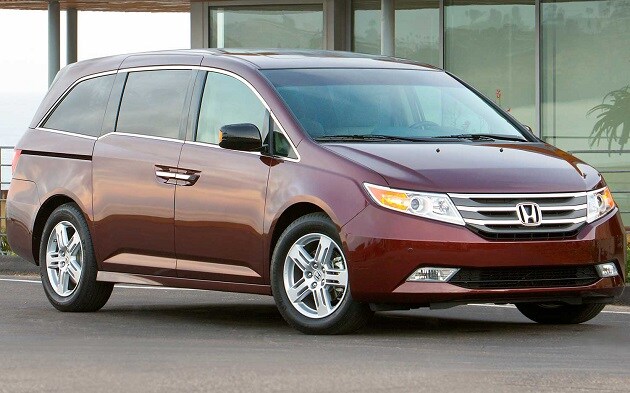 Whether you're part of the carpool team or have a big family road trip planned, a minivan is a great vehicle to take on the road. It's important to know what you're getting, though, so we compared the Honda Odyssey with the Toyota Sienna near Orlando to see how they stack up against each other!
   
Price: Most drivers want to get the most for their money when it comes to purchasing a new car, and there's nothing wrong with that! If you're concerned about your budget, then you'll appreciate the savings the 2014 Toyota Sienna has to offer. This new Toyota near Orlando has a starting MSRP of $26,920 and has FIVE different trim-levels for drivers to choose from! The Honda Odyssey also comes in five trim-levels, but it's a more expensive choice with the starting MSRP of $28,825. 
   
   
Space: Generally speaking, the new Toyota Sienna offers more room for everyone to enjoy, too. When it comes to headroom, hip room, shoulder room, and even cargo volume, this new Toyota near Orlando has more to offer than the Honda Odyssey!
   
   

Safety: Both of these vehicles can seat at least up to seven people. Depending on the trim-level, the Toyota Sienna near Orlando can offer seating for eight! Whether or not all the seats are filled with passengers doesn't matter, though. What is important is making sure everyone is safe! You don't need to worry about that with the 2014 Toyota Sienna near Orlando. It comes with the Toyota Star Safety System, which is only found in new Toyota! The Honda Odyssey does come with many safety features that are also found in the Toyota Sienna, like an advanced airbag system, vehicle stability, electronic brake capabilities and more. However, it lacks a couple of elements the Toyota Star Safety System provides, such as Traction Control and Smart Stop Technology!  

Don't forget that you have the option of getting more convenient and high-tech options installed in the 2014 Toyota Sienna. With available features such as Bluetooth wireless technology Sirius XM Satellite Radio, the Toyota Entune System, and even a Dual-View Entertainment Center that comes with a DVD player, 16.4 inch screen and two wireless headphones, you and your passengers can be ready for any trip with this new Toyota near Orlando!
 
New Toyota Sienna near Orlando has an incredible history!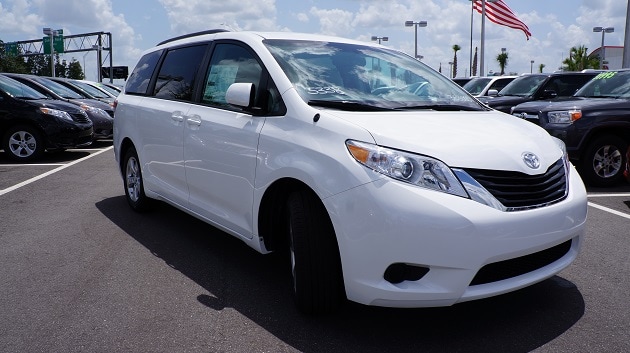 When searching for a new vehicle, you're probably looking for the best option for the best price. You know that the 2014 Toyota Sienna near Orlando is already offered for a lower starting price than the Honda Odyssey. Did you also know that it's already received some incredible rewards? 
Some of the positive recognition this new Toyota near Orlando has received includes: 
   
2014 KB.com Best Resale Value Award
   
   
NHTSA 5-Star Overall Safety Rating
   
   
Best Overall Value Four Years in a Row
   
   
Best Bet by Car.Com
   
   

IntelliChoice - 2013 Best Overall Value of the Year Award

This is only a sample of its impressive achievements. In the past it's also delivered the highest retained value in its class AND received the "Lowest Maintenance Costs" Award! 

With a history like this, the Toyota Sienna near Orlando has proven is has a lot to offer for an incredibly budget-friendly price. Want to learn more about this minivan, or explore for it yourself? Just give our Internet Sales Team a call at (888) 590-6090 to set up an appointment, or stop by and visit us in person at 16851 State Road 50. We're found just west of the Florida Turnpike!