When it comes to having plenty of space in a vehicle, most drivers might immediately think of a minivan. What about an SUV, though? Many of our new Toyota near Orlando feature plenty of room for both passengers and cargo, and you don't have to choose between the two if you want a vehicle that delivers plenty of room AND style at the same time!
Just look at the 2014 Toyota Highlander near Orlando. This particular SUV delivers incredible curb-appeal without limiting legroom or cargo space. However, it's not the only SUV that offers this kind of arrangement. The 2014 Ford Explorer is also known to turn heads. How can you decide which one is right for you? We put these two popular SUVs up side-by-side to get some answers!
 
The 2014 Toyota Highlander is sleek, stylish, AND an SUV!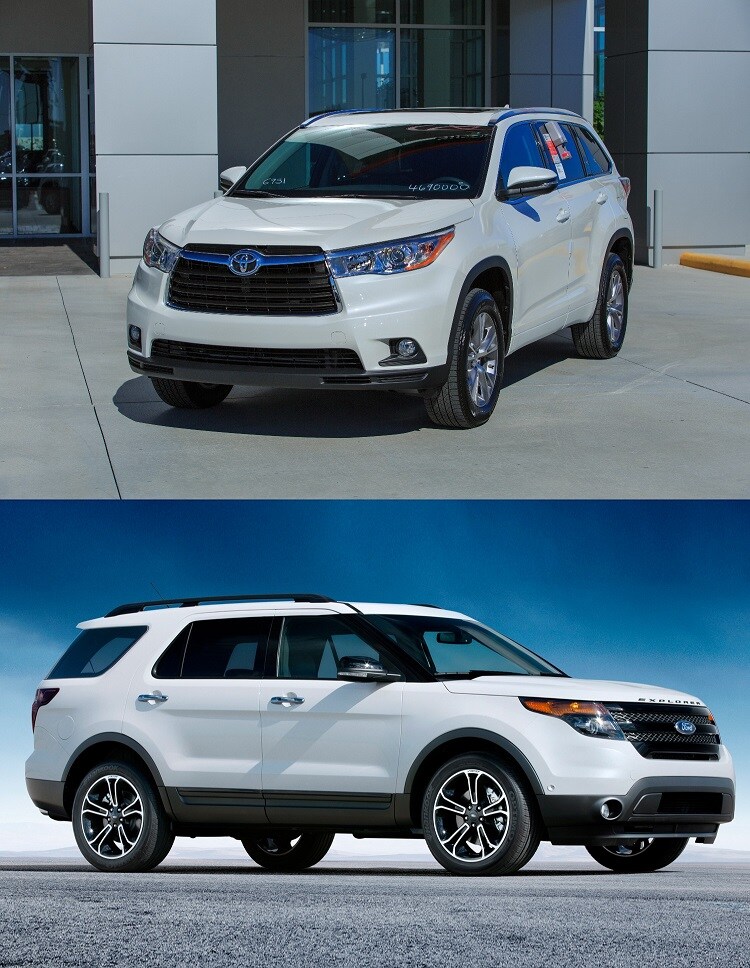 If style and space are your two main concerns, then you'll have a tough time finding a vehicle that offers more - let alone matches - what the new Toyota Highlander near Orlando has! 
Style
The 2014 Toyota Highlander near Orlando was just recently re-designed and has a whole new kind of curb-appeal to show off! Some of the new features and additions this new Toyota SUV now boasts include: 
   
A power liftgate that can be pre-programmed to open at different heights
   
   
New design has extra length (three inches) and width (half an inch)
   
   
A backup camera that's standard on all models
   
   

Extra cargo space behind the three rows of seating

While the Ford Explorer can also deliver many of these features, what it can't offer is the same style and design this new Toyota near Orlando now showcases! The Ford has a boxier and more rugged look, while the Toyota Highlander's design is more sleek and stylish - but its sophisticated appearance doesn't keep it from off-road terrain! 
More passengers are also able to get inside the re-designed Toyota Highlander near Orlando. The Ford Explorer can comfortably seat up to seven people, while the Toyota Highlander near Orlando seats eight! 
Fuel Efficiency
When drivers decide to take home a larger vehicle, many resign themselves to the fact that they probably won't be enjoying the best fuel economy. That may be true with other auto brands, but it's definitely not the case with this Toyota!
The Toyota Highlander near Orlando has a fuel economy of 20/25 mpg, while the Ford struggles to keep up with just 17/24 mpg. 
Budget
With its new curb-appeal and eye catching features, drivers might be tempted to think that the new Toyota Highlander near Orlando would run up a hefty price tag. That's definitely not the case; in fact, it's even MORE budget-friendly than the 2014 Ford Explorer! 
The new Toyota Highlander near Orlando has the starting MSRP of $29,215, while the Ford Explorer's price tag kicks off at $30,015. That's a savings of  $800 that drivers can enjoy right away when they opt to take home the Toyota Highlander! 
This may not seem like a lot, but it is when you consider all the features that come standard in this new Toyota near Orlando that you'd have to pay extra for if you drive home the Ford Explorer. 
Safety and Security 
Not only can you enjoy more savings in the 2014 Toyota Highlander near Orlando, but you'll also enjoy a safer ride! U.S. News rates the Toyota Highlander a top ten choice when it comes to affordability, while the Ford Explorer lags behind at number 16 on their list.
That's not the only positive thing U.S. News has to say about this Toyota when it's compared with the Ford Explorer, either. It has a better safety rating than the Ford SUV, and is also a Top Safety Pick by the Insurance Institute for Highway Safety! 
Features like the Toyota Star Safety System aren't found in Ford vehicles. Other standard safety parts that the Ford Explorer doesn't have - like a backup camera in the base model, active head retrains and a brake assist system - all work together to provide a safe and secure driving experience in the new Toyota Highlander.
 
Make the most of the latest technology in the 2014 Toyota Highlander near Orlando!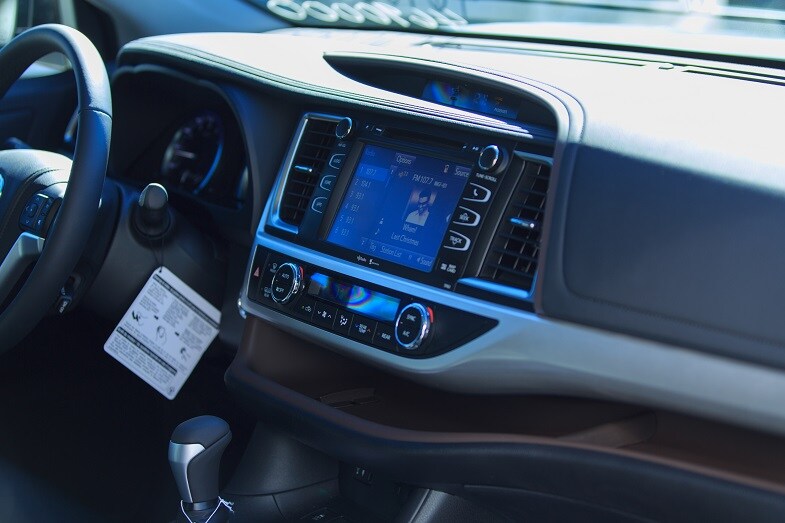 This new Toyota near Orlando already surpasses the Ford Explorer in many areas, but what about entertainment? 
   
The Toyota Entune System is a unique option that's specifically found in new Toyota. Through this option, drivers enjoy access to mobile apps while they're still behind the wheel, and can also receive important updates when it comes to the weather and traffic! 
   
   

Bluetooth hands-free technology is another standard perk that this Toyota offers that the Ford Explorer does not. Through the use of voice activated controls and this wireless system, drivers can pick up and make phone calls without lifting their hands from the wheel! You'll have to pay more for this feature in the Ford SUV!

It doesn't matter if you want to enjoy the latest technology, have enough room for passengers, or just want to have a stylish SUV. The 2014 Toyota Highlander can deliver all this and more! 

Want to explore this new Toyota near Orlando for yourself and test out everything it has to offer? You have five different trim levels to choose from, and this includes a hybrid (an option the Ford Explorer doesn't provide)! Give us a call at (888) 590-6090 to set up an appointment, or just stop by and see us at 16851 State Road 50!