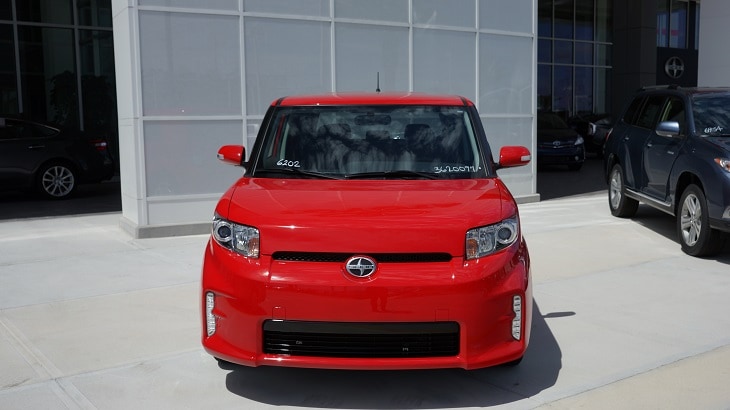 Do you want a stylish new vehicle that offers plenty of room, and comes from a legendary brand? You aren't reaching for the sky if this is the case - you have the 2014 Scion xB near Orlando to consider!
Each new Scion near Orlando has something different to offer. Whether it's a roomy interior, amazing fuel-efficiency, or a sporty style, the Scion family is known for delivering top-notch options! The 2014 Scion xB is a stand-out option not just for how budget-friendly it is, but also for the incredible options and hi-tech features it has to deliver!
 
New Scion xB near Orlando is efficient and budget-friendly!

The 2014 Scion xB isn't your ordinary hatchback car. Like other new Scion, it comes at a pure price which means there aren't extra new trim-levels to choose from, and you don't have to try and negotiate the lowest or best price possible. It's already being offered to you!
With the starting MSRP of $17,725, the 2014 Scion xB near Orlando is available in either an automatic or manual transmission, which means you can easily customize your driving experience and get the exact kind of control you want from the very beginning! A budget-friendly price isn't all this vehicle has to offer, either. With its 22/28 mpg, this spacious and stylish hatchback can help drivers save money at the gas pump, too.
Don't stress about staying safe behind the wheel of this Scion, either. Like each new Toyota near Orlando comes with advanced safety features, so does the 2014 Scion xB! Each part of the Toyota Star Safety System can be found in this ride: 
   
Vehicle Stability Control
   
   
Traction Control
   
   
Anti-Lock Brake System
   
   
Electronic Brake-Force Distribution
   
   
Brake Assist
   
   

Smart Stop Technology
2014 Scion xB near Orlando offers the latest in space, style, and technology!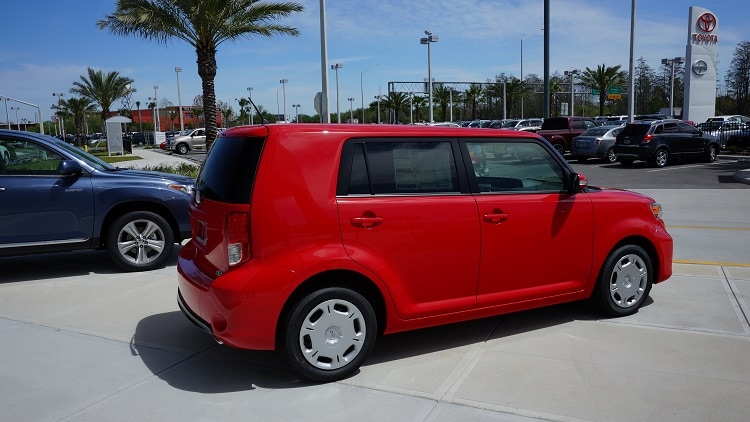 The 2014 Scion xB near Orlando may be a hatchback, but that doesn't mean it can't deliver incredible style! 
Space
   
If you need a ride that offers plenty of space, it might be tempting to get an SUV. Don't forget to check out what the 2014 Scion xB near Orlando has to offer, though! There's room for up to five people, and there's even more room for cargo! 
   
   
The rear seats have a 60/40 split which means extra space for luggage can easily be created in a moment's notice. 
   
   

There's already plenty of space to enjoy in this new Scion near Orlando to enjoy, though. It comes with 11.6 cubic feet of cargo room! 
Style
   
Just because this new Scion doesn't come in multiple trim-levels doesn't mean drivers can't enjoy options. It's available in seven different colors, including choices like Absolutely Red, Sizzling Crimson Mica, and more!
   
   
There's always the option to further modify your car by getting different accessories and new car parts! We sell genuine Toyota and Scion parts on location so you can easily add additional features to your Scion xB near Orlando. 
   
   

Some stylish standard features are also available for drivers to enjoy, like a chrome-tipped exhaust, front bumper LED accent lights and more!

Technology

The latest hi-tech features are also available for everyone to enjoy in this new Scion near Orlando!

   
Bluetooth wireless technology makes it possible for drivers to stream not just their music, but also any phone calls received through the sound system!
   
   
If there's an electronic device that doesn't have Bluetooth capabilities, that's not a problem. Just use the USB port or auxiliary audio jack to plug it in!
   
   

The Pioneer Audio System is the standard system that comes in this new Scion. With features like HD Radio and Sirius XM satellite radio that can come with it, drivers have practically no end of entertainment options to enjoy! The display audio screen also makes it easy for the driver to control their listening options while behind the wheel. 

The 2014 Scion xB near Orlando may be a hatchback, but that doesn't mean it can't offer the latest, or the best, in terms of style, space, technology and price. 

Think this stylish and spacious new Scion near Orlando could be right for you? There's no reason to wait any longer to find out. Just stop by and visit us at 16851 State Road 50 to check this ride out for yourself, or give us a call at (888) 590-6090 to set up a test-drive appointment!