You'll be hard-pressed to find a driver that doesn't appreciate the look of a two-door coupe and the sporty transportation it provides. However, what's even harder to find is a driver who doesn't appreciate a great price on a stellar vehicle! 

With the 2014 Scion tC near Orlando, the best of both of these worlds collide. Not only does this new Scion at Toyota of Clermont offer the sleek and stylish two-door coupe design that so many love, but it's also offered at a fantastic price that can work for practically any budget! Available for less than $21,000, you can easily take home the 2014 Scion tC near Orlando today!
The 2014 Scion tC near Orlando has a new look and more options!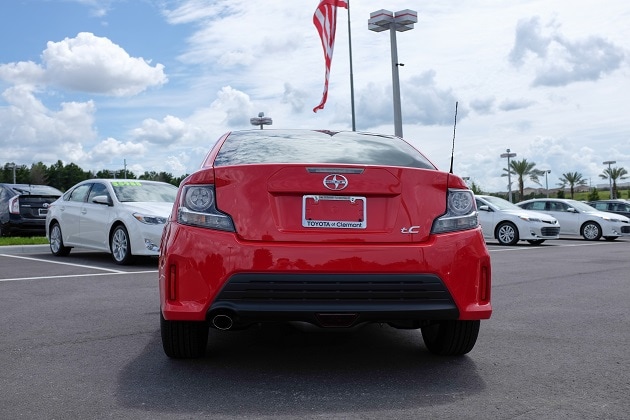 If you're looking for a sleek sports car that delivers a stylish way to travel around town, then the new Scion tC near Orlando might be just the vehicle you've been waiting for! Confusion and hard-choices are taken out of the scenario with this new Scion. It's available in one trim-level, which means you don't have to decide between different features and different capabilities! Every 2014 Scion tC on our lot is sure to offer the same positive driving experience you're looking for.
However, just because there aren't multiple trim-levels to consider doesn't mean you can't customize the driving experience. The 2014 Scion tC near Orlando comes with either a manual or automatic transmission, so you can select the exact amount of control you want when behind the wheel! Don't forget that the new Scion tC near Orlando also delivers even MORE stylish exterior elements! 
   
New headlights and 18-inch wheels only seem to fine-tune the already stellar style of the new Scion tC near Orlando, too. A new hood that extends a little further down also serves as an eye-catching detail!
   
Even more stylish options are available for drivers to consider with the addition of two new paint colors called Absolutely Red and Blue Streak Metallic!

   

Spectators of the 2014 Scion tC near Orlando will also notice some new additions and modifications to its front and back. Not only is a new grille installed that has a "tC" emblem on it, but the grille itself has also been blacked out! Similarly, the valance in the back also sports a blacked-out contrast, and new taillights deliver a different design.  

This is only the beginning of what the 2014 Scion tC near Orlando has to offer!


New Scion tC near Orlando delivers a fine-tuned driving experience!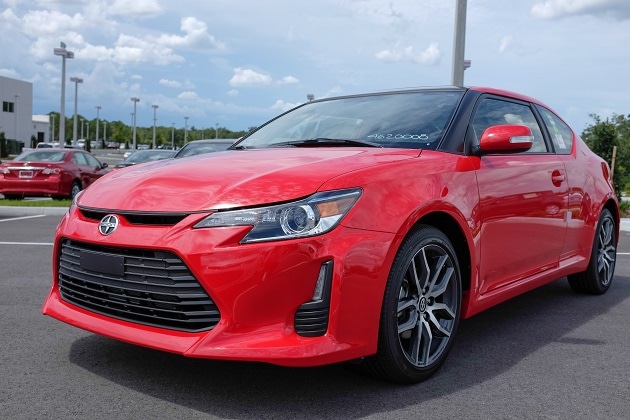 While incredible style and choice of transmission are features you can count on enjoying, there are also multiple details that have been incorporated underneath the hood and throughout the interior to help make every journey enjoyable and thrilling! 
Driving Experience
Besides giving drivers a choice in transmission, both the exterior and interior structure of the new Scion tC near Orlando is created to provide an optimum behind-the-wheel experience! 
   
Even if you opt for the 6-speed automatic transmission, you'll still enjoy the sporty flair that manual transmission two-door coupes offer. How so? The dynamic rev management that comes with the 6-speed automatic transmission will raise and lower the engine speed to help match the revs with the gear ratios when they downshift. Basically, you'll get the in-control-feeling of a manual transmission without having to do the work! 

   
Regardless of the transmission, each journey is sure to be smooth and even more streamlined with the new electric steering that the 2014 Scion tC near Orlando boasts, along with its improved shocks and suspension! 
   
Audio system

The latest technology can also be found in the new Scion tC near Orlando. Besides coming with an AM/FM CD player, there are multiple other high-tech innovations in this sporty Scion that provide practically endless hours of entertainment and incredible convenience! With the option of a new premium system, you can have access to even more audio services than ever before, such as:

   
Navigation
   
Social media apps
   
Connectivity to thousands of radio stations (over 30,000, to be exact)

   

Personalized music channels

These are only a few of the extra features offered through the new premium audio system. However, there are some standard entertainment features you can count on enjoying no matter what! 

   
Bluetooth wireless technology: With this feature, staying in touch with friends or listening to your favorite music easy. It can all be done through wireless streaming via Bluetooth and through the audio system!
   
Auxiliary audio jack: If you have a technological device that doesn't feature Bluetooth, you're not out of luck. Just use the auxiliary audio jack to plug it in and access the music you want to hear!

   

USB port: This feature enables you to not only charge electronic devices on-the-go, but it also offers iPod connectivity! 

No matter what audio feature you're enjoying, you can count on having easy-access and exceptional visibility with the 6.1 inch LCD touch screen that's included as an all-new standard feature in the 2014 Scion tC near Orlando! The audio controls on the steering wheel also provide easy-access when it comes to making fine-tuned adjustments!

With all of these features, the exceptional Star Safety System, and even more to enjoy, you're sure to make the most of every journey when you have access to the 2014 Scion tC near Orlando. Why wait to make the most of the stylish transportation this sports car has to offer? Come see us at 16851 State Road 50 to test-drive it today, or call our Internet Sales Team at (888) 590-6090 to set up an appointment!