What To Do This Fourth of July Weekend in Clermont, FL!
Get excited about the funtivities on their way this July 4th weekend with plenty of events to go to! So, gather your family and get into your Clermont Toyota for a safe drive to see a parade, concerts, eat an assortment of cuisine from food trucks, and watch fireworks from the panoramic roof of your Clermont Toyota. Whatever you do, Toyota of Clermont, most importantly, wants you to enjoy your weekend and have fun! So, here are some events that you can do this fourth of July weekend near Clermont, FL.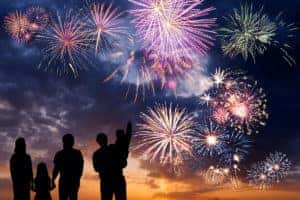 Events happening Fourth of July weekend near Clermont, FL
Fourth of July Red, White, and Boom at Lake Minneola
Where: Lake Minneola
When: Monday, July 4, from 7 PM to 10 PM
What to expect: 
Bring a blanket for a picnic and enjoy a fourth of July firework show! There will be a pie-eating contest and a winner for the most dressed patriotically! But, the fun doesn't stop there. Enjoy different cuisines and hop between food trucks because it wouldn't be a celebration without some good food. The band Actual Bank Robbers will be performing for a great live concert experience with family and friends. There will even be an American flag cup display for the family to participate in. 
Fourth of July at Boxi Park
Where: Boxi Park in Lake Nona
When:  Monday, July 4, from 12 PM to 10 PM.
What to expect: 
Head to Lake Nona with the kids for a chance to not only celebrate July 4th, but also get some July 4th paint with face painters coming between 1 to 4 PM. While you're getting your face painted, enjoy live music from Orlando's top Country and Rock cover band, The "Adam Duss Experience!" and the Tabasco Band. In addition, a Boxi-Q pop-up will feature BBQ food with many different options, from bulgogi smoked chicken thighs to dry spare rub ribs and cheddar biscuits with even more. 
An Impressive lineup at Red Hot & Boom in Altamonte Springs
When: Sunday, July 3, 4:00 PM – 11:00 PM
Where: Cranes Roost Park in Altamonte Springs
What's happening: 
If you're interested in an eventful celebration, the famous Red, Hot, & boom is coming back this year at Cranes Roost Park. Blast your favorite jams on the ride there with Apple CarPlay and get ready to celebrate with one of Orlando's most legendary radio stations, XL 106.7, and the city of Altamonte Springs. The best part is that admission is free! Get ready for an iconic lineup with Sofia Carson, The Walters, Em Beihold, Leah Kate, JVKE, Nicky Youre, Emmy Meli, and Alyssa Rahgu performing. In addition, there will be plenty of food vendors to keep you satisfied during the day with a firework show that will leave you in awe. 
Fireworks at the Foundation on Lake Eola Park
When: Monday, July 4, from 4 PM to 10 PM.
Where: The Fountain at Lake Eola Park
What to expect: 
Take your Clermont Toyota out on an adventure to Orlando's prime location at Lake Eola Park for a firework show of a lifetime. The Mayor of Orlando, Buddy Dyer, is inviting everyone to the 45th annual fireworks at the fountain this July 4th. Grab a bite and drink to eat from the variety of vendors there while watching the Orlando Concert band perform this celebration. Then, your friends and family can end the night with a patriotic firework show at 9:15 PM with fireworks surrounding the lake for an extraordinary experience. 
18th Annual All American Kids Parade and Breakfast in Winter Garden 
When: Monday, July 4, from 8 AM to 12 PM.
Where: Winter Garden Masonic Lodge
What to expect: 
Get ready for a breakfast of champions for the kids with a complimentary breakfast for kids and fun activities starting at 8:00 AM until 9:45 AM. Then, head out to the parade at 10 AM with the option to decorate your Clermont Toyota with complimentary patriotic decorations outside the Masonic Lodge. 
Happy Fourth of July from Toyota of Clermont!
There are so many fun events happening this weekend. Enjoy your long holiday weekend and have tons of fun and laughter with your families. From our Toyota family to yours, have a happy and safe 4th of July weekend!