Caring for your spare tire: a guide from Toyota of Clermont
Caring for your tires diligently is something every driver should do to prevent getting a flat when you're out and about. Regularly checking the current PSI with an accurate tire pressure gauge, inspecting the car tire tread monthly, and having them rotated each time your vehicle gets serviced will keep your car tires in good shape longer. But, one tire that most drivers forget about is the spare tire. While it may be a car tire only used when your Clermont Toyota vehicle gets a flat, you need to make sure it's ready to take on the road when you need it to. Luckily, Toyota of Clermont is here with an easy guide on how to get your spare tire ready and maintain it so it's ready when you need it.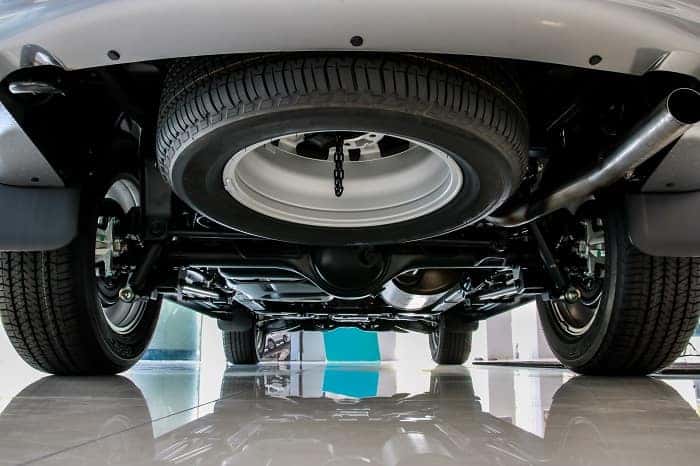 While you may not have need of your spare tire often, they have less material and they're much smaller than your typical Clermont Toyota car tire. Dry rot and deterioration over time is always possible due to lack of use. Because your spare car tire needs to be inflated to a much higher PSI than your regular tires, be sure to look out for bubbling and sidewall separation.
Check your exterior mounted car tire more closely.
Typically, spare car tires are stored in the trunk of your Clermont Toyota vehicle. However, some vehicles have their spare tires stored on the backside of the trunk or near the rear bumper in the undercarriage. This exposes them to higher amounts of heat and harsher conditions than an interior stored tire. Our auto service techs at Toyota of Clermont recommend dismounting your spare tire one to two times a month to check for damage.
Take stock of your spare car tire's equipment.
Having your spare tire when you need it is all well and good, but if you don't have the equipment to install it then changing your flat is going to be a little difficult. You need the included jack to get your car off the ground and there should be a provided lug wrench to remove the lug nuts from your current tire. Having these tools is absolutely essential to changing your car tire. If you're missing any of these tools, visit Toyota of Clermont and our auto parts specialists can take care of you.
Maintain your spare car tire with Toyota of Clermont
Making sure your spare tire is ready when you need it can save you a lot of stress if one of your tires ever goes flat. If you're missing equipment, need a new spare, or just need to make sure yours is in good shape, come visit Toyota of Clermont! We're located at 16851 State Road 50, just off the Florida Turnpike, and open seven days a week!