Car Cage Match: Toyota RAV4 vs. Honda CR-V
Crossover SUVs are taking the streets by storm in recent years and it's easy to see why. They're they perfect balance between sedan and large sized SUV. They have ample space in the cabin for up to five people, have great fuel efficiency, iconic looks and styles, and provide an all-around excellent driving experience. It's no wonder more and more people are turning to crossover SUVs year after year for their next ride. If you're looking to make the switch or get another SUV, you're likely left debating between a few different makes and models currently on the market. Today, at Toyota of Clermont, we're comparing our favorite Toyota RAV4 to the Honda CR-V. Both are excellent options for your next vehicle, but which one will come out in this edition of car cage match? Read on to find out!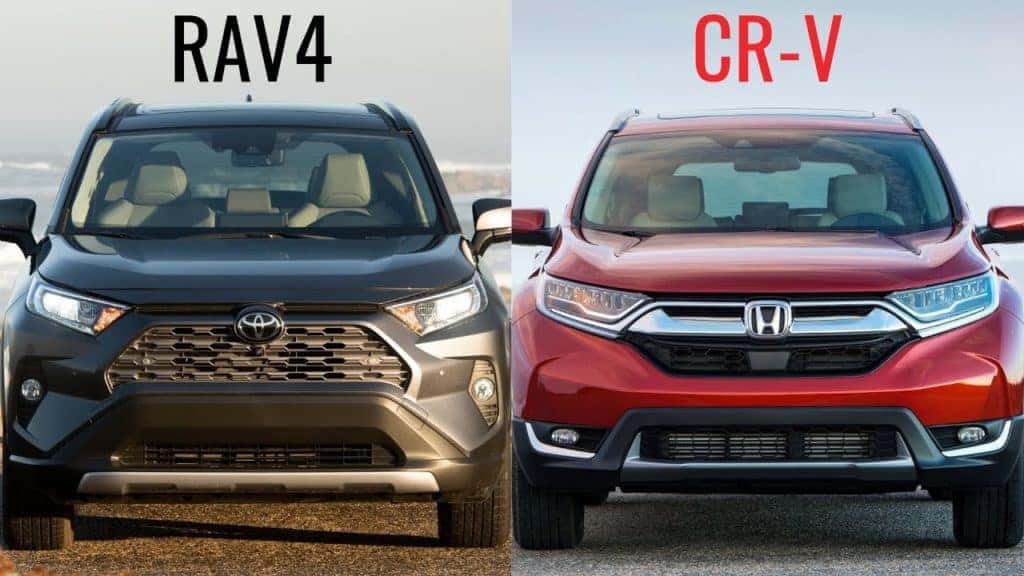 The Toyota RAV4 vs. The Honda CR-V
The Honda CR-V and Toyota RAV4 are both excellent options when it comes to selecting your next crossover SUV. Both present excellent safety features, sporty engineering, good looks, and comfortable interior designs and features. But, when it comes time to sign on the dotted line, which should you choose? Here are a few things to make picking between these two Clermont Toyota cars a little easier:
Exterior
Looking at both options, it's clear to see some obvious aesthetic differences between the Clermont Toyota RAV4 and the Honda CR-V. The Toyota RAV4 features more of a muscular and angular front bumper with an aggressive stance and gaze. The Honda CR-V opts for a more rounded look towards the lower half of the front bumper, but features angular headlights. Moving along the sides of the body, the CR-V flows well towards the back where you'll find high taillights and nice dual exhaust tailpipes with a chrome surround.
The Clermont Toyota RAV4 continues to angular and muscular aesthetic along the sides and rounds out the back with a more compact looking rear end with dual exhaust tailpipes that sit below the alternate paint colored bumper.
The Verdict: There is no clear winner for this category. It all depends on your personal style and taste!
Engineering
These two crossover SUVs feature different engineering and various levels of power. The Clermont Toyota RAV4 uses a naturally aspirated 2.5-liter four-cylinder engine that gives off 203 horsepower and 184 lb./ft. of torque. It also gets an EPA estimated 26 mpg city and 35 mpg highway. There Toyota RAV4 has a hybrid model as well that features more power and better fuel efficiency.
The Honda CR-V uses a 2.4-liter four-cylinder engine that gets 184 horsepower and 180 lb./ft. of torque. While there's no hybrid option, there is a downsized 1.5-liter engine version that's also turbo-charged and gets 190 horsepower and 179 lb./ft. of torque.
The Verdict: Between these two Clermont Toyota crossover SUVs, the Toyota RAV4 takes the cake.
Interior and Technology
Cabin comfort and tech are important things to consider when shopping for a new Clermont Toyota crossover SUV, so let's see how the Toyota RAV4 and Honda CR-V stack up.
The Toyota RAV4 and Honda CR-V both feature streamlined interior designs that allow for optimal access to features for both the passengers and driver. This aspect is really up to the driver's preference as far as which one's superior. However, the Honda CR-V does feature a larger amount of interior space with 39.2 cubic feet in the trunk (compared to the RAV4's 37.5 cubic feet).
When it comes to tech, the Toyota RAV4 features a standard 7-inch touchscreen head unit with a six-speaker sound system and an advanced infotainment system. Higher trim models feature an 8-inch display with an 11-speaker JBL sound system and other features like Qi wireless charging and five USB ports. The Honda CR-V uses a five-inch dash-board embedded touch-screen display with a standard four-speaker sound system. Higher trim levels offer a 7-inch display with a six speaker sound system.
The Verdict: When it comes to space, the CR-V takes the cake. But, when it comes to tech and convenience, it's the Clermont Toyota RAV4 crossover SUV that wins!
Safety
The Clermont Toyota RAV4 crossover SUV features standard stability and traction control systems (called the Star Safety System) along with an advanced airbag system and Toyota Safety Sense P. The safety suite features systems for pre-collision, lane departure warnings, automatic high beams, and dynamic cruise control. This all comes standard, regardless of trim level.
The Honda CR-V features standard traction control and stability systems as well and an advanced airbag system. However, the CR-V doesn't include systems like lane-keeping assist, auto high beams, and adaptive cruise control across all trim levels.
The Verdict: If you're looking for the highest level of safety without paying extra for it, the Toyota RAV4 is your car!
Pricing
Now for the most important number of your decision, what's the price?
The Clermont Toyota RAV4 crossover SUV is priced at an MSRP of $25,500 and a maximum trim level price of $33,500.
The Honda CR-V starts with a lower MSRP of $24,350, but the top trim level price is set at $34,150.
The Verdict: While the Honda CR-V starts at a lower price point, it doesn't include several great standard safety and interior features that the RAV4 does. Plus, the Toyota RAV4's highest trim level price is lower than the CR-V's. So, it's safe to say that the RAV4 wins this one!
We can show you the facts all day, but at the end of it all, what matters is how you feel from behind the wheel. So, come see for yourself which vehicle is right for you! Test drive the new Toyota RAV4 crossover SUV at Toyota of Clermont today. We'll make sure you pick the right ride that you'll love driving mile after mile. Visit us at 16851 State Road 50 seven days a week!