Back To School Driving Tips You Need This School Year
Since school is around the corner it's an opportunity to brush up on back to school driving tips from your experts here at Toyota of Clermont. 

Driving in school zones
Slow down and drive slowly. School zones have lower speed limits for safety purposes. You should make sure to factor these speed limits into your driving commute.
Avoid distracted driving at all cost. So, this means making sure you're not on your phone while driving, utilizing the advanced technology on your Clermont Toyota like Apple CarPlay or Android Auto to navigate to your destination safely. 

Always be ready to stop suddenly and quickly for bicycles and kids crossing the street to get to school, and drivers pulling into the dropoff loop. 

Make sure to expect and watch out for pedestrians and crossing guards. Take a look at the roads by scanning every direction and always yielding. 

Keep an eye out for road signs while you're driving to school by knowing where the school zones start and end, the speed limits, and other rules you should follow for this back to school season. 
Driving around school buses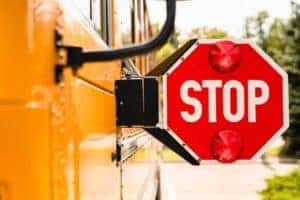 Try not to follow a school bus too closely 
School buses are responsible for picking up children from multiple different bus stops, so they frequently make stops. You want to make sure when you're driving behind a school bus that you leave plenty of space between the bus and your Clermont Toyota. There is a helpful two-second rule that you should follow that's super helpful. 
Once a bus passes a street sign or tree, you should wait at least two seconds before passing it. 

Let's say it stops, you should leave 10 feet of space in between the front of your car and the back of the bus. By doing this, you are also allowing space for kids to pass between if they need to. 
Get ready for frequent stops
In the morning, you may have to prepare yourself for frequent stops with back to school traffic. So, make sure that you are exercising your defensive driving skills. Be sure to pay attention to the road at all times. 
Don't catch their blind spot
When you're on the road and see a big bus, you may notice that they block the view in front of you because of how big they are in space. Just in the same way, they have big blind spots. So, although you may want to quickly pass them, do not. Instead, if you need to pass them, wait for them, make sure you never pass them when their yellow lights are flashing (make a stop instead), and always pass on the left side of the bus. 
Always stop when needed for a bus
If you find that you're behind a bus and yellow lights are flashing, it's an indication that you legally have to stop your Clermont Toyota. You must stop even if you are in the lane over from the bus. However, if you're driving in the opposite direction with a double line in the middle of the road, then you are in the clear to keep driving. 
How To Avoid Back To School Traffic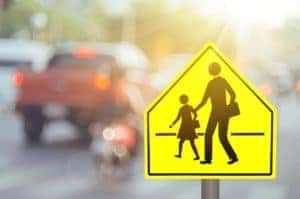 1. Plan Your Route 
Routes can be confusing, especially if you're starting a new school. It's best to try out your route, before heading out on the road when the first day comes around. By planning your route and preparing you will save yourself time and frustration.
2. 
Give yourself extra time 
It's important to give yourself the extra time you need in the morning. When you're in traffic and dealing with the pressures of being late, it's tempting to want to speed and cut other cars off. However, this can increase your chances of getting into a collision and isn't safe. Instead, give yourself enough time to encounter traffic from weather delays, accidents, or etc. Give yourself at least 15 minutes of wiggle room this back to school. 
3. Pack everything up ahead of time
Prepare the night before by setting out your clothes for the next day, your backpack, anything needed for after school activities to make sure your morning runs as smoothly as possible. By preparing beforehand, you limit the possibilities of having to turn your Clermont Toyota around to get something you forgot. 
4. Check the traffic from your smartphone ahead of time
Take advantage of the features on your smartphone like Apple Maps, Google Maps, or whatever navigation system you prefer. You will be able to get an idea of how long it takes to get to your school in the morning and afternoon.

Need more tips this school year? Reach out to us at Toyota of Clermont today! You can find us at 16851 State Road 50 seven days a week.