The new Scion FR-S near Orlando is a pretty popular and stylish sports car (not to mention affordable). It's racked up quite a few awards over the years, and has proven its popularity time and time again! Some of the rave reviews it's received include:Â 

   
SEMA Award Winner - Hottest Sport Compact
   
"A" Rating by Edmunds.com
   
Cars.com Best of 2013 Award
   
IIHS Top Safety Pick
   

Autobytel Compact Coupe of the Year

The 2014 Scion FR-S might be an award-wining sports car, but we know that it's not the only top-pick or popular option on the market right now. The Hyundai Genesis Coupe is another two-door car drivers scramble to get behind the wheel of. We put these two sports cars up side-by-side to compare what they have to offer so drivers can figure out which one is best for them!
 
2014 Scion FR-S pulls ahead of the Hyundai Genesis Coupe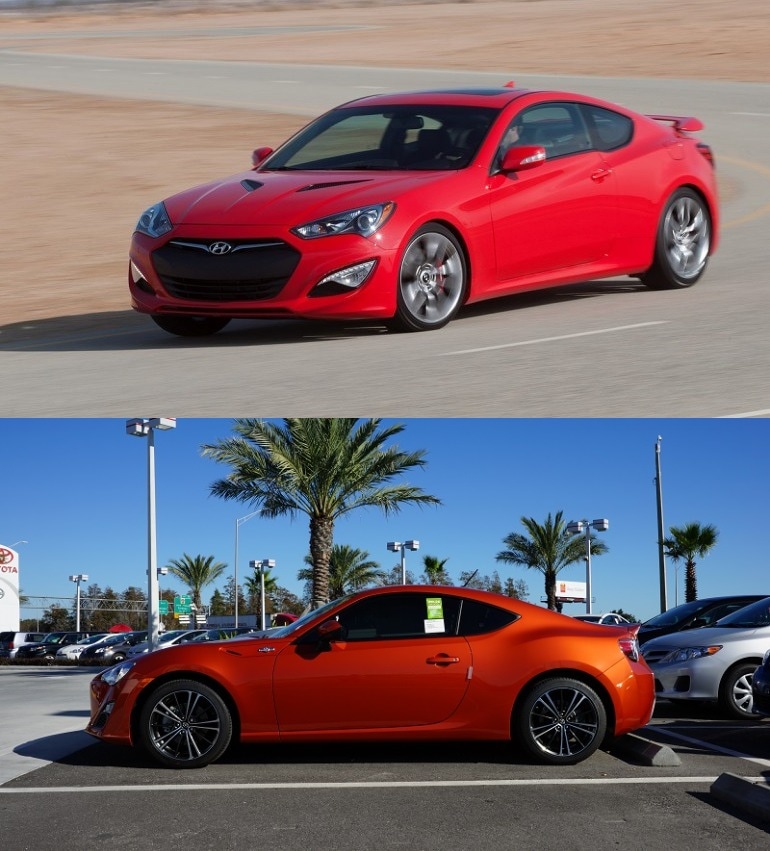 Finding a new Scion near Orlando isn't difficult, but making sure the one you choose fits all of your driving preferences can be a little bit challenging. The Scion FR-S near Orlando is a stylish ride - this much is obvious. However, what comes underneath the hood and inside is important to consider, too! 
Driving Experience
The 2014 Scion FR-S near Orlando automatically comes with some special capabilities and features that set it apart from the Hyundai Genesis Coupe. 
   
It has a front-mounted flat boxer engine that helps lowers the car's center of gravity; this helps the driver enjoy more control!
   
Power isn't a question in the new Scion FR-S near Orlando, either. It delivers 200 hp and 151 lb-ft of torque!
   
Performance doesn't diminish gas mileage in this sports car, either. The 2014 Scion FR-S near Orlando gets 25 mpg in the city and 34 mpg on the highway! The Hyundai Genesis Coupe has a tough time keeping up with this kind of fuel efficiency. It only offers 20 mpg in the city and 31 mpg on the highway. 
   
This new Scion sports car also tends to be a little bit easier to handle; it only weighs 2,758 pounds while the Hyundai Genesis Coupe is almost 1,000 pounds heavier at 3,361 pounds!

Hi-tech features

Technology comes in practically every nook and cranny of the new Scion FR-S near Orlando, and it also has an amazing sound system that takes any listening experience to the next level!

   
Eight speakers help the driver and passengers clearly hear the music playing (versus the Hyundai Genesis Coupe that only comes with six speakers). 
   
A 300w amplifier and display audio touchscreen are extra features that the Hyundai competitor doesn't offer, but the Scion FR-S near Orlando does! Not only that, but this Scion sports car also comes with extra hi-tech features like navigation services, Bluetooth technology and voice recognition. 
   

Drivers also have the option  to upgrade the audio system in this new Scion sports car to the BeSpoke Audio System, which includes even MORE services to enjoy like Internet services and an extra 30,000 free audio stations. 
Safety
New Toyota near Orlando are well-known for being safe and dependable options, and new Scion share in this reputation! The Scion FR-S might be a sports car, but that doesn't mean it doesn't put safety first. Some of the safety features that come standard in this car include the Star Safety System (found only in Scion and Toyota). This special system comes with Smart Stop Technology, which isn't found in the Hyundai Genesis coupe. 
The Hyundai Genesis Coupe also doesn't offer second row curtain airbags or a first aid kit- both of which come in the new Scion FR-S near Orlando!
 
Take the Scion FR-S near Orlando out for a spin!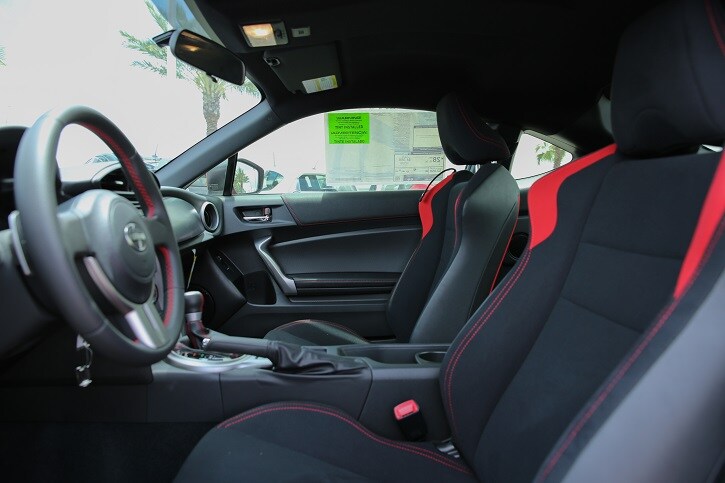 The Scion FR-S near Orlando has a lot to offer that the Hyundai Genesis Coupe can't compete with - and this includes helping a driver's budget out! This Scion comes at the starting MSRP of $25,255, while the starting MSRP of its Hyundai competitor kicks off at $26,350!
If you want a legendary sports car for a great price, then it's hard to go wrong with the 2014 Scion FR-S near Orlando. Want to learn more about what it has to offer? It's easy! Come and see us at 16851 State Road 50 to take it out for a spin, or give us a call a t(888) 590-6090 to set up an appointment!